Spend the Holidays making memories with Family
---
Posted on Dec 18, 2018
Experience the Holiday Lights Without the Headache
Think back to last year when your family gathered around and you wanted to take them all out in the car to drive around looking at all the holiday Christmas Light displays. What was that experience like once you got out on the road?
A maze of streets where you got lost?
Snowy? Icy? Crowded?
How about unenjoyable if you were the one doing the driving?
Well, here at Aadvanced Limousines, we have the perfect solution for you!
Grab your camera, hot coco and let's kick off your holiday season with a holiday lights tour in one of our luxurious limousines! This unique event will keep everyone in your family happy, as you make memories that will last forever! Sit back, relax, and let our team of professionals do the driving. The best part is that you can plan the entire evening right down to the smallest detail because each itinerary is custom to you.
When you arrange for your limousine or Bus, you can choose the size and style that will fit your family. Don't worry, because we have a diverse fleet that will offer a vehicle available for families with only two people or families of up to thirty-eight. That means that you can invite everyone, including the grandparents to this magnificent adventure and the rest of your extended family as well! No one will need to sit at home when there are thousands of Christmas lights to see on display in Indianapolis.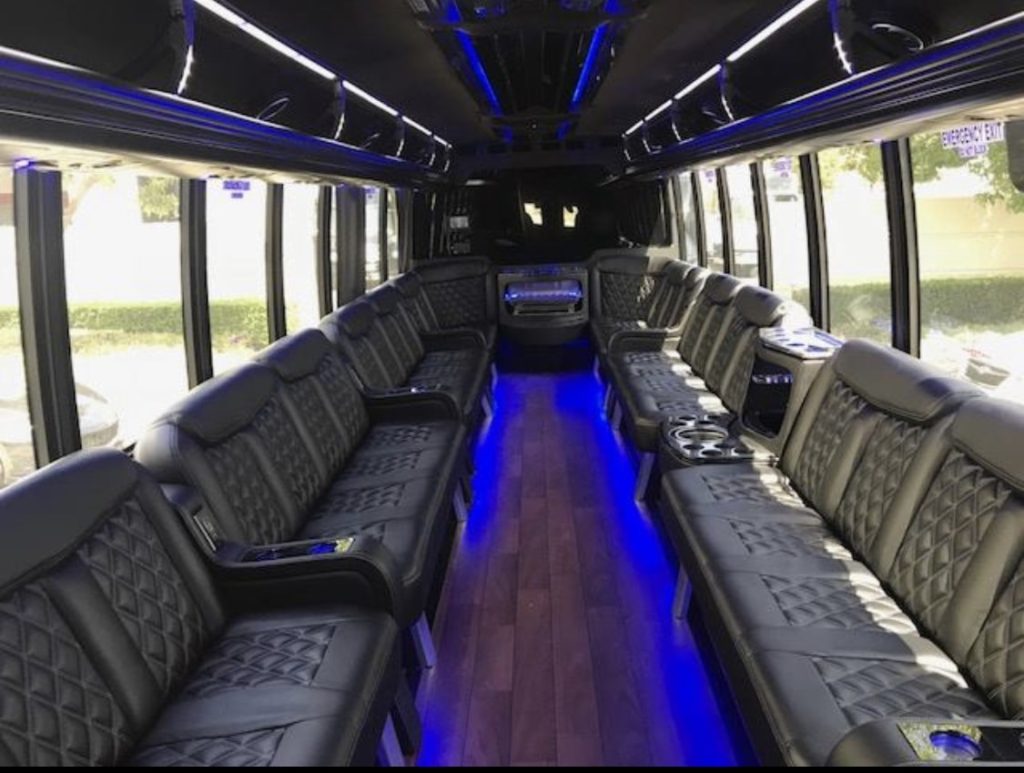 Our four-passenger executive sedan is perfect for those romantic settings for couples who may want a private date night out. While the fourteen passenger Hummer limo will have you high enough off the ground to see the lights for miles without having an obstructed view. Larger families love our shuttle buses, as they are sleek, elegant, yet roomy and comfortable for everyone while offering conversational seating.
Once you have your preferred vehicle picked out, call us at 317-716-1201. Our team of professionals will talk through the details and itinerary of the evening to make sure everything goes perfectly! You can customize the tour, by deciding the length of time, the route or even the destination. We will help map out the details so that you can use the limousine and maximize your time. Sometimes guests will give their driver a preferred route or area that they know has numerous light displays. Some of the most popular destinations have become "Lights at the Brickyard" and of course the historic Monument Circle. We have made it easy for guests by providing suggestions and surprising them with a route and destinations of our choice. Since we have been doing these tours for more than a decade, we know where the best displays are each year, so you may find a few new favorites along the way. We can even combine your route with one of ours, so you get the best holiday light tour experience this year. If you do that, we guarantee that this new tradition of taking a limousine around town is going to be the one that stays in place for years in the future!
On the night of your event, your limousine will show up in front of your house, with a professional Chauffeur who is ready to take you on the road. All you need to do is climb in and wait for the magic to begin, make sure to have your camera neaby! There will be no more watching for traffic and keeping control of the car in the snow and ice. You won't even miss all the displays this year, because you won't have anything else to focus on.
We encourage guests to wear their favorite Christmas PJ's or Ugly Sweater to show their Holiday Spirit. It does create a festive mood that spills over to the rest of the night and makes for great pictures. As your chauffeur is driving you and your family around, you can listen to Christmas music or even play your favorite Christmas movie on your limousine's state of the art entertainment system. As you pass by holiday light displays, the Chauffeur will give you notice that you are approaching so you can snap a photo or two, and even have your family in a few of the shots with the lights glowing in the background. Don't be afraid to ask your chauffeur to stop if you notice a home or business that has other holiday light seekers wandering around. Your chauffeur will be more than happy to pull over in a safe place to let you out to stretch your legs and participate in all the holiday festivities.
If your driver is taking you to a light display that is a little further away and there is not much to see before you get there, they will let you know so you have time to read an enticing Christmas book to your children, tell stories of ole St. Nick or maybe even sing your favorite Christmas Carols. There are so many books out there, and we know that everyone has their own personal favorites. However, if you are looking for something new for your new annual holiday light tour tradition, we recommend How the Grinch Stole Christmas, The Polar Express, or The Night Before Christmas. If your children are old enough, you can all take turns reading or they can even read it to you! THIS is what making memories is about!
Of course, no holiday light tour is complete without hot cocoa and cookies, so bring them along or just ask to stop at any nearby gas station or convenience store. And if your family is not into hot cocoa, chilled apple cider or your favorite beverage can be your little indulgence of the evening. we will supply complimentary bottled water, cups and ice. We are service focused so do not be shy about requesting or asking for exactly what you want to make this a memorable event for you and your family.
We love doing our holiday light tours every year and we are always thrilled when we become a part of a families new holiday tradition with us! In a way, they become a part of our family, and it is not unusual for some of them to request their favorite driver and limo year after year. We shouldn't be surprised by that since we are professional and reliable, as well as knowledgeable when it comes to the holiday lights in the area. If you are ready to take your holiday light tour to the next level and want to start a fabulous new tradition with your family, give us a call. We are insured and licensed, and we are ready to make your holiday dreams come true!